Greeting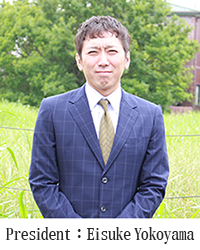 Nichibei inc. was founded by Eiji Yokoyama's initial aim was to export Japanese foods and optical instruments for the manufacturing industry and the general public In 1951, however, Nichibei Company introduced the first die release agent for die casting into Japan, importing "DIE SLICK" from the U.S.A and the Japanese die casting industry now for nearly half a century. During that time, our efforts concentrated on building up an enduring relationship with our Japanese customer.
We then began to develop, produce and sell our own die casting lubricant products and equipment for our customers to enable them to get the best use from our products.
In 1987, I became president of Nichibei company Ltd. And embarked on a programme to build new factories with the aim of increasing production capacity to satisfy the growing Japanese market.
At the same time, we established a reseach and development section to quickly satisfy our customer's technical needs and also to develop products which are sensitive to the environmental and human requirements of the futures.
We are facing new challenges which stem from the increasing globalisation of production and industrial competition.
We will seek out new possibilities for business development. In co-operation with personnel from each of our markets, we will work together to achieve the maximum potential to provide the world with quality pwoducts.
Additionally, we will give priority to our technical developments and quality improvements in anticipation of the future needs of our customers both at home and overseas. We earnestly seek your continued support and co-operation as in the past.